The SEO community seemed pretty excited about the Google May 2022 core update. But are we sure what it was about? And how did it affect your rankings? Let's take a look.
Volatility in Website Rankings Is Common After Broad Core Updates
The Google May 2022 Core Update was one of the most significant broad core updates ever. We've seen it impact a lot of businesses since then. And while there were some immediate effects, we still see volatility in rankings. It's been quite dramatic.
In the case of the June/July 2020 update, we saw some sites bounce around for several days. Then, within a few hours, they'd stabilized and settled into their new positions.
So how does this compare to previous big updates? Well, let's look at the May 2022 update…
It lasted about 3 days – similar to June/July 2020.
It started in the middle of the night Pacific Time zone.
It lasted longer than the June/July 2020 update did.
And the volatility didn't end until the next morning.
How Volatile Has it Been?
In short, the goal was to provide better relevance to searchers. While there are many ways to improve relevancy, one way is to reduce the number of irrelevant sites in the SERP. To achieve this, Google planned to reduce the weighting given to low-quality sites that rank well organically.
The problem is since Google does not disclose how much weight each feature receives, it makes it difficult to predict exactly how the update will affect your site. However, based on our data, we believe the impact was substantial. We think that the update caused large swings in traffic volume.
We have already seen some of this volatility in the data. For example, we saw a sharp drop in traffic volume around the launch date of the update. And while the impact has been milder overall, we saw large drops in volume at times throughout the rollout.
Once the rollout was completed, we saw our rankings return to mostly normal levels. This is because we follow a strict rule to stay within the parameters of the Google guidelines for almost everything we do for our SEO efforts.
There are also certain practices you should not engage in. The Google May 2022 Core Update teaches us that improving your website's overall quality and offering the best possible user experience is in your best interest. Something we believe can help get you to the top of the ladder.
During the May 2022 core update, informational (answers) and transactional (purchases) search queries experienced over 50% volatility.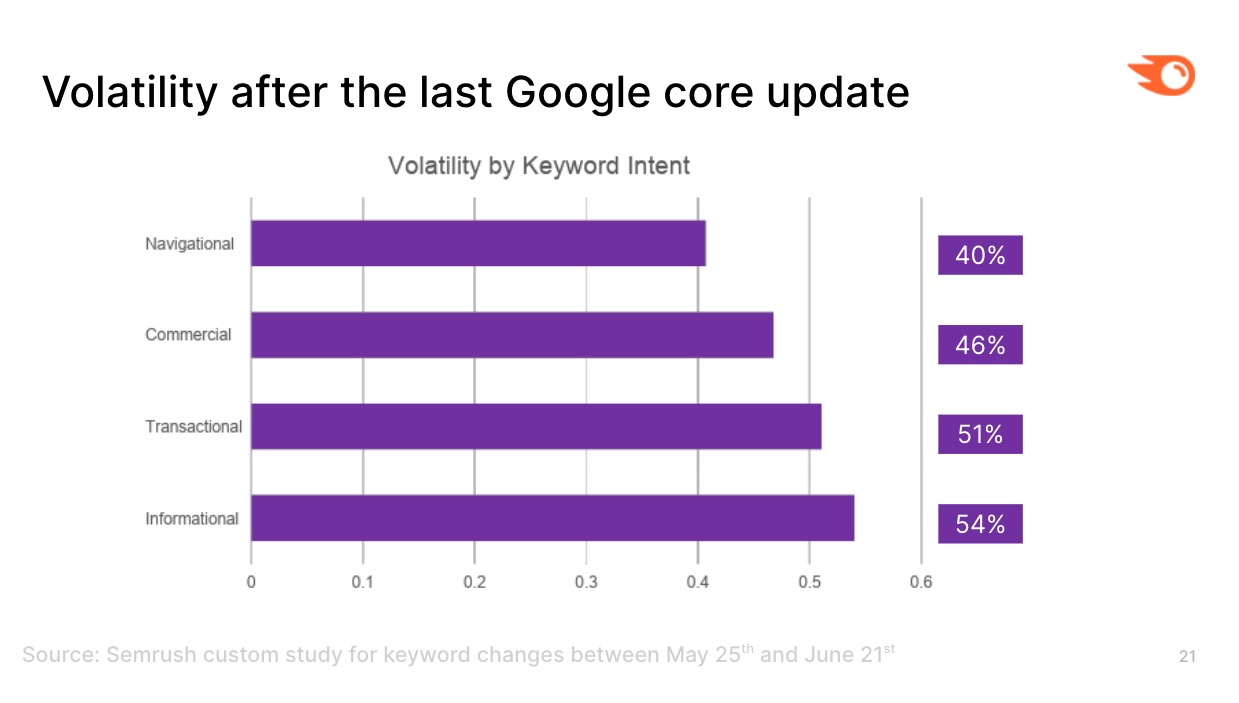 So, if you have noticed an unexplained drop in rankings in the past month or two, it might be because of the update. It doesn't necessarily mean your website has been penalized; it simply means that more effort must be put into making it more relevant and user-friendly. ITDwebdesign.com does SEO by combining two methods: On-page and Off-page Optimization. All of this at a price that won't break your bank, along with constant SEO support to help you make better choices.
There is no way of knowing what the next major core update will bring or when it will occur, but we believe it will most likely come towards the year's end. Starting the improvement as early as possible is the best course of action. Sometimes, getting a headstart makes all the difference in getting to the finish line. Let's see if we can get you there sooner.
Did your site visibility improve or decline with the May 2022 update?
If your website was negatively impacted recently, I strongly recommend getting in touch so we can help you.
Call us at 1-888-760-0878
Our Search Engine Optimization Strategies
Search Engine Optimization, more commonly referred to as SEO, is the process of increasing site relevance, trustworthiness, and usability through legit methods. It's a complicated process. That said, we've been doing it long enough that our team knows what it takes to rank in Google quickly.
You have to adhere to certain rules. Let's start with your website content. Unless your content stands out and makes itself heard, you can kiss higher rankings goodbye. Our content is high-quality, original, relevant, and engaging around your niche. We also optimize your existing content to make it rank-worthy.
Additionally, people not searching for your content probably won't even read it. It doesn't matter how exciting your content is. So why waste time creating content that isn't targeted to the proper audience. Before creating content, we conduct extensive keyword research and analysis that keeps your users' intent in mind.
Our third advantage is that we have some of the biggest link-building networks across a wide variety of niches in our marketing arsenal, which are some of the most powerful backlinks on the internet. Our policy is to submit High Domain Authority web 2.0 submissions with an average domain authority of 60+ and High Domain Authority bookmarks, including EDU links, PBN links, high domain authority profiles, and so forth.
As a final point, social media shares should not be neglected. You can boost your reach and engagement with it, even though it does not directly affect your rankings. Our marketing strategy aims to put your brand in people's minds for all the right reasons.
Call us at 1-888-760-0878